No matter from which perspective we look at the stories below, we can stop thinking that luck and beliefs can be the strongest ally that one might have. And if you have them behind your back, no dreams seem unrealistic, no desires – unfulfillable. Because when it comes to gambling everything is possible, every tactic could work, and every life can be changed with one single spin or flip! If you feel like giving this statement a try, you can also check which are the best gambling sites around.
Patricia DeMauro: The Lady and the Craps
Have you ever heard of Patricia DeMauro? No? Let us fill you in then. Patricia DeMauro is a lovely lady, a grandmother from New Jersey, that decided to try her luck in Borgata Hotel Casino and Spa in Atlantic City. The event happened on the 23rd of May, 2009.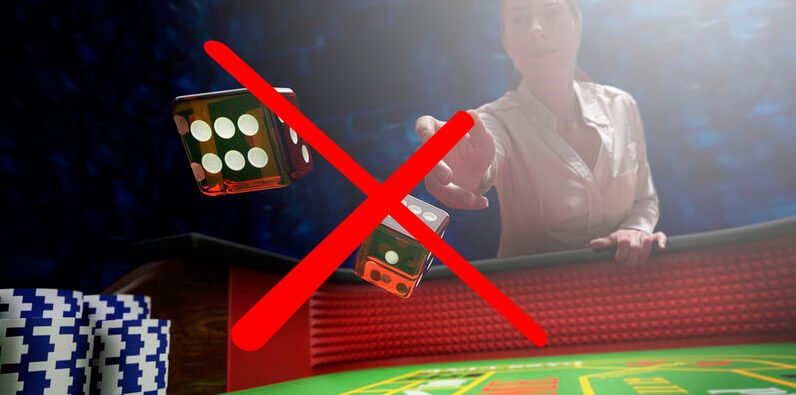 She started playing craps there, like thousands of other people before and after her and ended up setting a new World Record, if Guinness was listing dice games at all. In the range of four hours and 18 minutes, Patricia threw the dice 154 times and not even once she hit the 7! The chances for that are 1 in 1,56 trillion! She threw in the dust a record set 20 years before this event, in Las Vegas by a player from Honolulu and she surpassed it by one hour and twelve minutes. Another record that she broke in pieces is the highest number of dice rolls that were successive – according to Frank Scoblete, a gambling expert and author, the highest number of winning dice rolls was 147 and it was made in 2005 by a man with the pseudonym 'Captain'. The average probability of dice rolls before sevening out is… approximately 8.5. The best part is that it was barely her second time playing craps – that night she was amusing herself with slots and eventually got bored of them, so she went to search for her friend that sevened out quite quickly.
No one knows for sure how much money Patricia DeMauro cashed out when leaving the casino. Some experts say hundreds of thousands, others say million. One thing is sure – Patricia DeMauro did the impossible and her luck is something that many can envy her for! It also turned her into a famous character of gambling success stories!
Kerry Packer: Always on the Ferris Wheel
Kerry Packer is another interesting figure used in gambling stories. A media tycoon, Packer had more money than he could throw at casinos, fortunately for him. He is known among gamblers for his gigantic loses and wins on card tables all around the world. It is believed that three weeks in a London casino back in 1999 cost him around 28 million dollars. This amount is accepted as the biggest gambling loss in British history! Once, while playing in the MGM Grand in Las Vegas, he won $33 million. Another time in London, Aspinall had to shut down because of Packer's success in blackjack!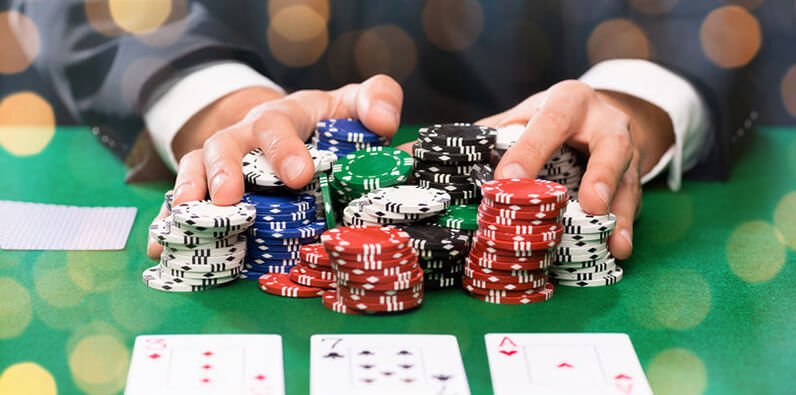 He was both a desired and a feared customer for casinos worldwide. He was a man of opposites – had a very hot temper, spend a lifetime ignoring journalists and evading questions and yet, did some of the most memorable acts seen in a casino. He wanted to tip a croupier, but since croupiers share the tips, he required that the manager fires her. When that happened, he gave her 80 thousand dollars and demanded that the manager hires her again. Another time, he proposed to pay off the mortgage of a waitress. About the bad part of his temper – as we said he was a media tycoon, owning a majority of shares in Nine Television Network. And he happened to see a show that he disliked, so he called the station giving an order to remove the show from airwaves. Reportedly, his words were 'Get that sh*t off the air!' With all his faults and virtues, Kerry Packer remains a legend in the society and gave food for tens of articles among which many for his bad gambling stories…
Gonzalo Garcia Pelayo: The God of the Roulette
Gonzalo Garcia Pelayo, born in 1947 in Madrid is a record producer and math virtuoso. And he is famous with his accomplishments in beating the roulette. He made huge profits from the game, using an invented by him, legal method. It was based on statistical analysis and the fact that the roulette table, like any other machine, surely has imperfections and because of them, there is a higher probability for certain numbers to come out. Pelayo gathered the data of thousands of launches and spending years on this, he detected a roulette in the Madrid Casino that favours some numbers.
At the end of 1991, he started playing at the Gran Madrid Casino and won around 70 million pesetas by the middle of 1992, which is roughly 700,000 dollars at that time. After a win of around €500,000 in one day, Gran Madrid forbade Pelayo and his two children Ivan and Vanessa to enter the casino. And they started touring the world – casinos in Las Vegas, Austria, Holland, Australia and many more countries experienced on their backs the truthfulness of Pelayo's calculations. The total amount of his gain was never disclosed, but it is estimated that he and his family accumulated winnings of over 250 million pesetas (between one and a half and two million dollars). His extraordinary tactics and his fame generated two movies – a documentary of The History Channel called 'Breaking Vegas: The Roulette Assault' and a fiction movie by Eduard Cortes named 'The Pelayos'. There is also a book from 2003 – 'The Fabulous Story of Los Pelayos', written by Gonzalo Garcia Pelayo himself.
FedEx: Saved by Blackjack
Everybody knows about FedEx. Founded in 1971 as Federal Express Corporation by Frederick W. Smith, FedEx is the first overnight courier, operating in more than 200 countries and handling more than a billion packages annually. Three years after its launch, the company was left with nothing more than $5000 in the bank account, and the inability to pay the fuel expenses of planes.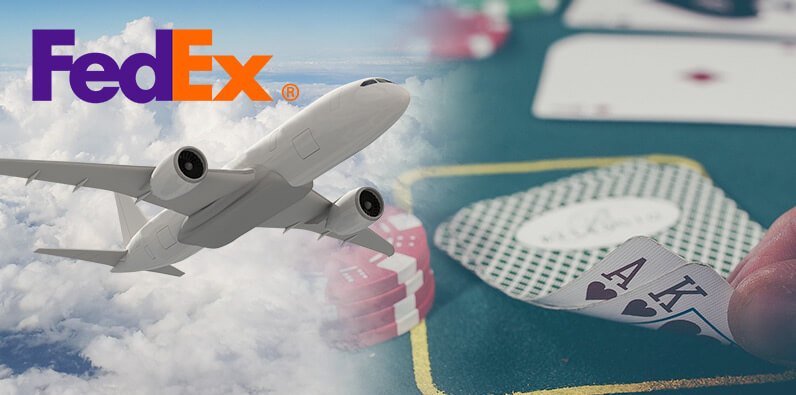 And Frederick Smith did something that no one would've even thought about. He flew to Las Vegas with the last five thousand of the company funds. This was much of a surprise to everyone in the FedEx! Roger Frock, a vice president of operations back then, wrote the book 'Changing How the World Does Business: FedEx's Incredible Journey to Success', in which he reports his and Smith's reactions:
While in Vegas, Smith sat on a blackjack table and spent the weekend there. The shock was even bigger when he raised 27,000 dollars. The fuel bills of the company were around $24,000.
This was not the final solution to the problem, yet it gave Smith the time to find investors and to bring FedEx back on its feet. He raised $11,000,000 and by 1976 FedEx had a profit of 3 and a half million dollars. For 2018, the company has a revenue of $65.450 billion. That's what we call luck!
Phil Laak: Poker Till the End
Here comes another World Record! Phil Laak is a professional poker player, that set a record for the longest single session in poker back in 2010. He is known as the 'Unabomber' and he managed to resist a 115 hours gameplay at the Bellagio in Las Vegas! The best part is that he did it for Camp Sunshine, an organisation that grants summer camp experience to sick children. Laak was receiving five minutes break every one hour and he made the choice to play through, so he can take a 30 minutes nap.
No caffeine, stimulants of any kind or illegal substances were taken by the Unabomber during these 115 hours, and he states that the most helpful man around was his nutritionist. To prove that he is perfectly fit and fine, in the middle of the game, Laak made a few dozens of push-ups and because of this gained $1000 donation to Camp Sunshine. Over 130 thousand people watched the live streaming video of the session and the charity organisation received more than $3000 dollars.
William Hill: Never Thought They Will Have to Pay
We prepared two of the strangest and the most incredible bets that were made in recent history. Both are made at William Hill and both ended up paying off more than well. The stories are coming straight from the island of Great Britain too. The first happened in 1964 when William Hill received the following bet from a 20 years old boy, named David Threlfall:
David received odds of 1000:1. Right after his bet, the Moon betting become wildly popular, but after the landings of Luna 9 and Gemini 9, the odds fell to 8 to 1, and eventually even lower. Yet, David Threlfall, being the first brave sci-fi enthusiast, won a total amount of £10,000, which is around $250,000 nowadays. As Apollo 11 landed, a representative of William Hill said 'That's good enough for us.' even before Neil Armstrong to make the first stride on the Moon.
The second astonishing example of insane betting is related to Harry Willson, a professional football player born in 1997, who is also the youngest international of Liverpool. In the year 2000, when Harry was barely 3 years old, his grandfather, Peter Edwards, made a bet at William Hill in Wrexham and put £50 pounds on the possibility his grandson to play for Wales one day. William Hill gave him odds of 2500 to 1. In 2013 was Harry's first game as a Wales national which brought to Peter a win of £125.000. Mr Edwards retired after he got the money and decided to spend more time with his wife. This is a man that believed in his bloodline!
Another incredible story is about a group of students from MIT, back in 2003 that found a way to earn a lot of money on blackjack. If you are interested, you can read our article about the movie that the MIT blackjack team inspired.
The list of writings about gambling is long, fantastic and sometimes hardly believable. Most are some kind of gambling recovery stories or some fot outrageously bad gameplay. The examples listed above, on the other hand, are a solid proof that Lady Luck can come at any moment and that trusting yourself and your abilities can be the biggest weapon that you can have in a casino.